Tummy Tuck
Tummy Tuck in Granbury near Fort Worth, TX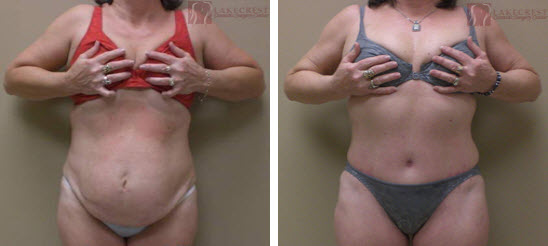 What is a Tummy Tuck?
Having children or losing significant weight can cause abdominal muscle laxity and excess skin. Dr. Steve Peterson can tighten these muscles and remove excess skin by performing an abdominoplasty.  This procedure has been revolutionized with the use of a post-op pain pump that continuously releases a local anesthetic in the area of surgery resulting in less need for pain medications and early return to activity.
As most women may know, no amount of exercise or diet can remove the excess flabby skin in the abdominal area that is a result of the stretching due to pregnancy and drastic weight changes. A tummy tuck is the only effective way to remove the excess skin and achieve the hourglass figure that you have always dreamed of.
What is a tummy tuck like for patients near Fort Worth, TX?
A tummy tuck or abdominoplasty is already considered a major surgery. Dr. Steve Peterson and his surgical team will be providing you with instructions on how to prepare for this surgery. A tummy tuck lasts for about 2 to 5 hours and is done under general anesthesia.
A tummy tuck involves an incision along the lower portion of the abdomen, just above the patient's pubic area so that the incision lines will remain inconspicuous. From here any excess fat and skin will be removed. Dr. Peterson will repair the underlying muscles and tissues. This will be tightened to provide more structural support for your abdomen. Your navel will be separated but will later on be repositioned. The skin of the abdomen will be pulled down by your doctor and the excess skin will be removed. Dr. Peterson will create a new opening for your navel and the incisions will be closed with sutures. Drains will be placed under the skin to avoid the accumulation of body fluids during your recovery.
What can I expect after a tummy tuck?
Dr. Steve Peterson's patients near Fort Worth, TX are amazed at the dramatic change in their abdomens after a tummy tuck. Patients will immediately appreciate a flatter and leaner tummy right after this procedure.
A week after your procedure, you will be asked to come back to our office near Fort Worth, TX for a post -operative exam where your dressings will be changed, the drains will be removed, and your wounds will be checked for any signs of infection or healing complications. Dr. Peterson will recommend that you wear compression garments for the next 10 weeks to facilitate healing.
Since this is a major surgical procedure, patients would have to wait about 2 to 4 weeks before they can resume work and their daily activities. You can expect to be fully recovered about 4 to 6 weeks after your tummy tuck. Patients are advised to regulate their activities during this recovery time.
Common Name: Tummy Tuck
Medical Name: Abdominoplasty
Type of Anesthesia: General
Length of Procedure: 2 – 5 Hours
Down Time: 2 – 4 Weeks
Recovery Time: 4 – 6 Weeks
Creates a flatter and tighter tummy
by removing extra skin and fat.


Procedures: